Viaggio nell'intimo di un pianista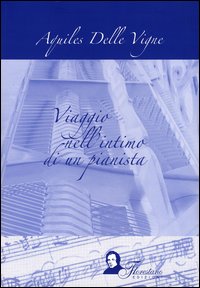 Details of the book:
Title: Viaggio nell'intimo di un pianista
Edition: Florestano
Publication's date: 2006
Language: Italian
ISBN: 88-901857-3-2
Pages: 360
Format: 17X21
Enclosed: CD with Sonata in B minor S 178 by Franz Liszt and Fantasia in C op. 17 by Robert Schumann
Questo libro è contemporaneamente un credo ed una provocazione.
Un credo nell'Artista in quanto essere unico.
Un Credo nella Musica come valore estetico, morale e religioso.
Una provocazione nei confronti dei giovani che, davanti all'odierna letargia, sembrano sommersi dal problema dell'Arte, quello odierno e quello eterno, coltivando una speranza certa nella loro reazione per un avvenire che credo brillante.
Un esame implacabile dei problemi quotidiani e di sempre: l'ego, il concerto, i concorsi internazionali, la carriera, le mafie, il mercato, la memoria, la paura, la tendinite, il declino dell'artista e il suo rifiuto di ritirarsi.
Ogni periodo è paragonato ad una grande opera per pianoforte.
I 48 Preludi e Fughe di Bach, i 24 Studi di Chopin, La Sonata di Liszt e la Sonata Op. 111 di Beethoven sono analizzati in profondità e accompagnati da più di duecento esempi pratici. Tutto nel linguaggio dei giovani pianisti. Affrontando i loro problemi tecnici ed estetici, per aiutare ognuno a trovare la propria soluzione nei due campi, attraverso le nostre soluzioni, incerte.
È anche un credo nella forza di spirito di questa gioventù e un avvertimento a non prendere le strade che non portano a Roma, come pure a non commettere i nostri errori.
In conclusione, c'è la certezza dell'immortalità della Musica e dell'Arte – e di conseguenza dell'anima dell'Artista – con la speranza non nuova, ma reiterata, nella forza di questi giovani che faranno senz'altro meglio di noi.
A.D.V.